Allegro Discusses Connected CE on Industry Panel at CONNECTIONS™
Digital Living Conference and Showcase
SANTA CLARA, CA and BOXBOROUGH, MA – June 24, 2011 – Connected CE manufactures are looking at different ways to differentiate their products with the proliferation of connected devices in the market today. Customers expect more than just a quality built consumer electronics product, they expect and demand a quality user experience as what they can do with their devices dramatically expands. Astute companies are capitalizing on this trend by offering quality products along with value added services to enhance the overall user experience. Allegro is participating on an industry panel discussing how device connectivity, interactive features and cloud-based solutions are impacting the competitive consumer electronics landscape at CONNECTIONS – The Digital Living Conference and Showcase June 28-30 at the Santa Clara Convention Center.
The CONNECTIONS session "Interactive Features for Connected Consumer Electronics," Wednesday, June 29 at 11:15 a.m., will feature executives from AwoX; Accedo Broadband; Allegro Software Development Corp.; LG Electronics; LEVEL Studios, a Rosetta Company; and SyncTV discussing strategies to develop and deploy these features for connected CE. Additionally, Parks Associates will present new research including consumer interest in new interactive features such as TV widgets/apps, content delivery and billing systems for video-on-demand, and transactional/ad-supported business models.
Allegro's RomPlug® Toolkits Enable the Latest in Device Connectivity
Innovation and connectivity are fueling unprecedented advances in consumer electronics and connectivity. Device manufacturers are enabling their products to communicate with the other devices within the local network in addition to the cloud. The Digital Living Network Alliance (DLNA), a cooperative collaboration of 350+ of the world's leading consumer electronics, PC and mobile companies have created a set of interoperability guidelines for a new generation of Connected CE. Allegro is a DLNA Technology Component supplier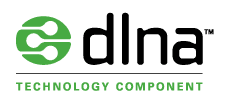 and has worked with consumer electronics companies worldwide to incorporate DLNA interoperability in 50+ shipping DLNA Certified products. Allegro's RomPlug® suite of UPnP / DLNA software components offer OEM engineering teams flexible and robust solutions to create UPnP / DLNA enabled consumer electronics and mobile devices. "Many device manufacturers are looking at ways to create products that combine the latest in technology with associated services to create a superior user experience" says Bob Van Andel, CEO and President of Allegro. "Allegro's RomPlug® suite of DLNA products offers the latest in CE connectivity and device management allowing OEMs to focus on creating a custom and unique user experience." Allegro will showcase the full line of RomPlug® products at CONNECTIONS (Booth #306).
About CONNECTIONS: The Digital Living Conference and Showcase
CONNECTIONS: The Digital Living Conference and Showcase, hosted by international research firm Parks Associates, attracts over 500 executives focused on innovative consumer technology solutions. The 15th annual CONNECTIONS will take place June 28-30, 2011, in Santa Clara. This unique conference and showcase highlights consumer and industry research from Parks Associates, showcases key players and new technologies, and delivers insight and recommendations for new business models and opportunities in digital media/content, mobile applications and services, connected consumer electronics, broadband and value-added services, and home systems. Parks Associates is an internationally recognized market research and consulting company specializing in emerging consumer technology products and services. Founded in 1986, Parks Associates creates research capital for companies ranging from Fortune 500 to small start-ups through market reports, primary studies, consumer research, custom research, workshops, executive conferences, and annual service subscriptions.
About Allegro
Allegro Software Development Corporation is the premier provider of UPnP networking and device management technologies specifically targeted at embedded Internet applications. Since 1996, Allegro has been a force in the evolution of device management solutions with its RomPager® embedded web server toolkit. Now also an active contributor to UPnP / DLNA initiatives, Allegro supplies a range of UPnP toolkits that offer portability, easy integration and full compliance with UPnP device specifications. Allegro is headquartered in Boxborough, MA.
Contacts:
Loren Shade
VP Marketing
Allegro Software Development Corporation
978-264-6600
loren@allegrosoft.com
Larry LaCasse
VP Business Development
Allegro Software Development Corporation
978-264-6600
larrylc@allegrosoft.com