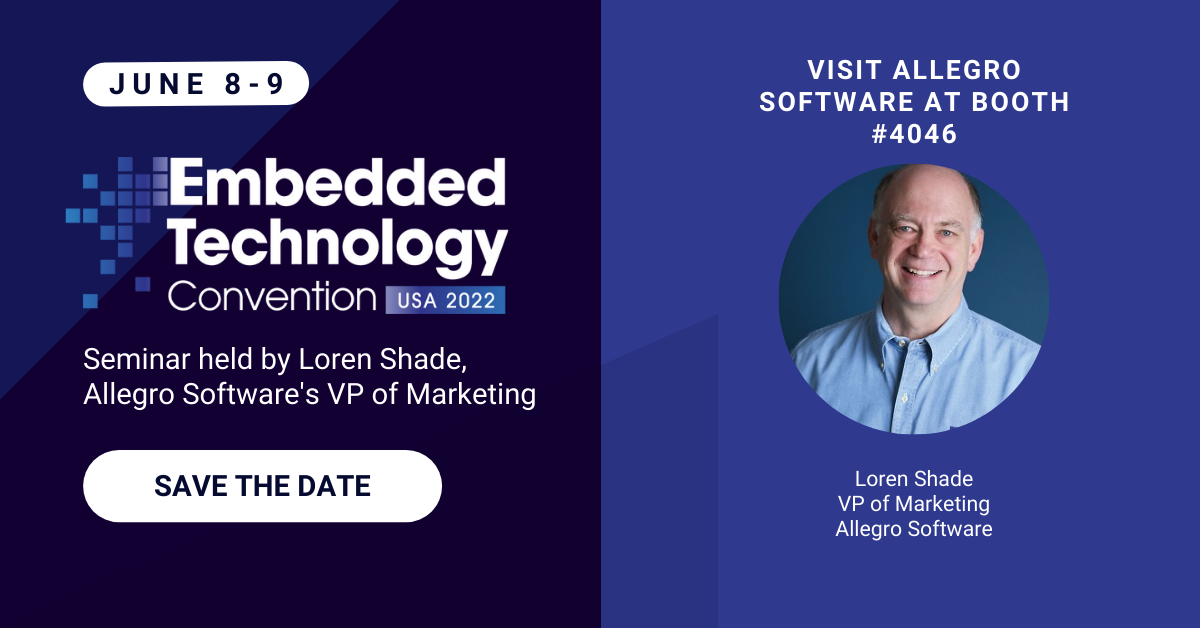 Loren Shade, VP of Marketing at Allegro Software, is speaking at the 2022 Embedded Tech Convention USA on June 8th and 9th. Loren will be speaking Wednesday, June 8th in Theater 3 from 2:45 pm to 3:15 pm about combining IoT with NFTs, ZKPs and more. about combining IoT with NFTs, ZKPs and more. Cryptographic technology can provide essential benefits for the medical device industry, including increased security. Loren will be diving into the potential of this new trend in technology at the convention. Loren will also be speaking on the medical panel session on Thursday, June 9th from 12:00 pm to 12:45 pm in theater 5.
The Embedded Tech Convention is the ultimate showcase of embedded technologies and systems. Loren Shade will be representing Allegro at the Embedded Tech Convention and will be speaking about how cryptographic-based technology is being incorporated into IoT and providing unprecedented value. Loren will be talking about the many exciting technologies that have their foundations based on key concepts of cryptography, including blockchains, non-fungible tokens, smart contracts, and zero-knowledge proofs, as well as how they influence IoT.
You've probably heard of NFTs or non-fungible tokens before as they are becoming a popular way to create digital art collections, but their applications for IoT technology are much different. NFTs are a form of financial security that stores digital data on a blockchain where ownership is recorded and transferred. NFT's combined with IoT are very powerful and provide new opportunities. Identification and ownership information on IoT devices can be easily transferred with the use of NFTs. NFTs can also help prevent counterfeit medical devices or medications. This type of technology can also improve the regulations for reselling medications. It provides the ability to identify whether the medication was stored properly, unopened and track where it has been. Zero knowledge proofs are a protocol in which one party can prove to another that a specific statement is true without revealing any other details. This demonstrates that you know something about the IoT device or drug without disclosing personal information. These opportunities are essential for securing IoT devices in the medical industry as protection against hackers and other security threats become more important.
These aspects of cryptography offer opportunities and benefits for various industries that are likely not yet taking advantage of them. Loren will be discussing these topics and more, in detail at the Embedded Tech Convention and highlighting how Allegro Software incorporates these technologies in our software solutions. Visit the Embedded Tech Convention website for more information and to get your free tickets.
Allegro is the leading provider of IoT Edge security and connectivity software toolkits to manufacturers worldwide. Contact us to speak to a representative and discuss how we can help you.