Security and Connectivity for the IoT Edge
Embedded Web Services Overview
Allegro's RomXML Plus development toolkit offers design engineers a comprehensive solution for building connectivity between embedded designs and enterprise IT environments utilizing web services technology. Embedded devices enabled with web services technology are essential for enterprise IT in remote data collection, operations, industrial automation, sensor networks and monitoring applications. Designed for use in demanding embedded environments, RomXML Plus provides lightweight REST, JSON, and SOAP technology without carrying the overhead of general purpose solutions.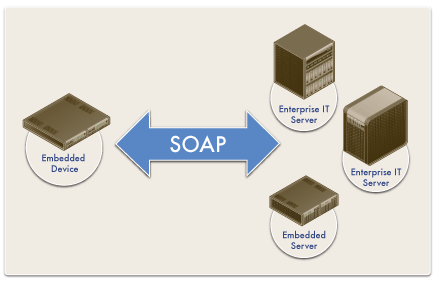 RomXML Plus – Embedded Web Services
When designing embedded systems, it is smart to leverage standards-based communication technology especially when devices are deployed globally. Often communications standards have benefited from global participation during development and enjoy an installed base already deployed in many markets around the world. Web services with JSON, REST, and SOAP holds true to this paradigm. Enterprise IT environments worldwide are implementing web services to meet the ever-changing demands of corporations striving to compete in global markets. RomXML Plus enables your embedded device to fully integrate into these enterprise IT environments by offering REST, JSON, and SOAP compatibilities.
The primary requirement for embedded web services technology is to efficiently translate data between a messaging syntax and internal storage (typically a C structure). However, implementing general purpose web services technology in an embedded environment will likely prove to be impractical. Allegro's RomXML Plus toolkit provides a lightweight translation between pre-defined C-language structures and messaging representations. RomXML Plus leverages the capabilities of RomXML in addition to RomPager for serving pages or RomWebClient allowing an embedded device to reach out to any server.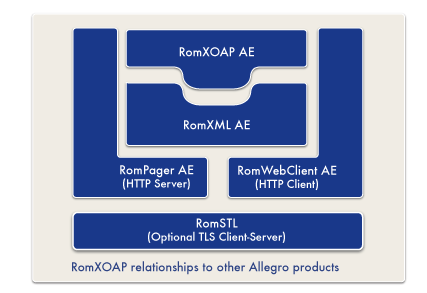 SoapBuilder
As part of the RomXML Plus toolkit, the SoapBuilder compiler further decreases your development effort when utilizing SOAP in your embedded design. The SoapBuilder compiler takes WSDL 1.1 files as input and generates RxSchema that define the SOAP transactions. The RomXML AE TagBuilder compiler, in turn, uses the RxSchema to define XML objects in C-language structures used for XML-based data exchange.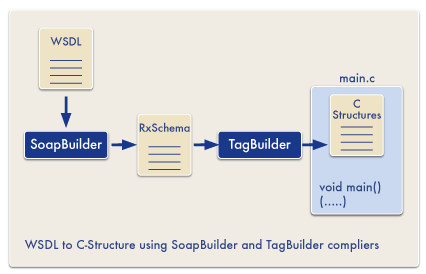 Flexible Design
The RomXML Plus runtime is delivered in ANSI-C, is highly portable and offers a rich API for your development team to handle REST, JSON and SOAP transactions. RomXML and RomXML Plus can be used stand-alone or together with the Allegro EdgeAgent Suite.
| Features | Benefits |
| --- | --- |
| Small code footprint | More resources available for application features |
| ANSI C Source Code Distribution | Broad processor architecture support eases porting and support |
| Processor, RTOS, and TCP/IP stack agnostic | Allegro's products will work with new or existing hardware and software designs |
| Interface files for leading RTOS vendors provided | Minimizes porting effort, increase time to market |
| Shipping in millions of products worldwide | Field-proven reliability |
| Pre-integrated with RomPager Embedded Web Server and RomWebClient Embedded Web Client | Save your development team time |
| GPL Free | No licensing or development issues related to GPL |
| Autonomous framing of REST, JSON and SOAP requests using application data supplied via C data structures | Eliminates the need to design and test a flexible and resource sensitive framing architecture by using a fielded proven technology shipping in millions of devices worldwide |
| Support for SOAP 1.1 and SOAP 1.2 | The latest SOAP technology can be utilized in your designs |
| SoapBuilder and TagBuilder pre-compilers | Dramatically speed development and generation of framework code for server applications |
| Pre-integrated with RomSTL (TLS) | Enable secure SOAP client and server transactions |
W3C Recommendations
System Requirements
Processor Architecture – Works with any 16-bit, 32-bit or 64-bit processor
Operating System(OS) – Works with any OS vendor and will function without an OS if needed
TCP/IP Stack – Works with any vendor implementation
Filesystem – Works with any vendor implementation and will function without a filesystem if needed
Compiler – ANSI C