Security and Connectivity for the IoT Edge
RomWebClient AE Overview
Allegro's RomWebClient AE toolkit allows your engineering team to leverage proven Web technology when creating custom networked embedded designs. The RomWebClient AE toolkit enables embedded engineering teams to build products that send and receive objects to and from any Web server using HTTP with full support for IPv6 and dual mode IPv4/IPv6 operation. For secure communications, RomWebClient AE is tightly integrated with Allegro's RomSTL TLS toolkit allowing your design team to make full use of TLS 1.2 with FIPS 140-2 and Suite B cryptography. By utilizing RomWebClient AE technology your embedded device can communicate with Cloud-based resources, download configuration files, retrieve software updates, retrieve "print-by-reference" documents or send status notifications to a remote server.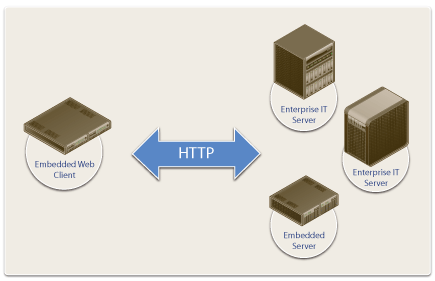 RomWebClient AE
The RomWebClient AE toolkit enables your embedded device to fully support HTTP 1.1 for sending and receiving HTTP objects in any format with any Web server. MIME definitions for all standard MIME object types are provided in addition to allowing support for non-standard MIME types. HTTP objects can be sent or received from memory or an optional file system. Both HTTP direct requests and proxy server requests are supported. For authentication, HTTP Basic and Digest methods are provided and are compliant with RFC 2617. The RomWebClient AE toolkit also has built-in support for advanced caching, pipelined requests, proxy authentication, large object data streaming, and HTTP cookies. Delivered as ANSI-C source code the toolkit is built upon a highly portable and field-proven abstraction layer enabling it to work with any OS or TCP/IP stack.
RomXML AE™ and RomXOAP AE™
The RomWebClient AE toolkit is pre-integrated with Allegro's RomXML and RomXOAP toolkits allowing manufacturers to easily built advanced device management architectures that require XML and SOAP-based communications with Cloud-based resources. The RomWebClient AE toolkit includes support for integrated retrieval and transmission of XML objects when used in conjunction with the RomXML AE and RomXOAP AE toolkits. This allows your design team to create devices that initiate XML-based request/response protocols such as the Simple Object Access Protocol (SOAP) making them easier to integrate with enterprise information systems.
RomSTL™ – Embedded TLS
Security is always a concern when dealing with devices connected to the internet. RomSTL addresses the need for advanced security with integrated TLS 1.2 support. With support for a variety of cipher suites (RSA, DHE, RC4, DES, 3DES, AES, SHA, CBC, and MD5) and full integration with Allegro's FIPS 140-2 validated cryptography and Suite B, your development team can provide compatibility with all standard secure browsers. RomSTL also provides Basic and Digest Authentication support under TLS. Compliant with IETF standards (RFC 5246 and RFC 3268), RomSTL provides RomWebClient AE with the advanced security functionality to meet your development team needs.
Highly Portable
Allegro's Secure IoT Suite is highly portable across RTOS and processor families. Delivered in ANSI-C source code all products utilize a field-proven abstraction layer to enable portability with any RTOS, TCP/IP stack, and file system environment. Interface files for leading RTOS environments are provided.
| Features | Benefits |
| --- | --- |
| Small code footprint | More resources available for application features |
| ANSI C Source Code Distribution | Broad processor architecture support eases porting and support |
| Processor, RTOS, and TCP/IP stack agnostic | Allegro's products will work with new or existing hardware and software designs |
| Interface files for leading RTOS vendors provided | Minimizes porting effort, increase time to market |
| Shipping in millions of products worldwide | Field-proven reliability |
| Supports IPv4 and IPv6 operation | Integrates with local and wide area networks |
| GPL Free | No licensing or development issues related to GPL |
| Direct and Proxy server request support along with proxy authentication | Ability to create embedded designs that directly access the Internet or interface through a proxy |
| RFC 1945 and 2616 compliant | Ability to interoperate with HTTP 1.0 and HTTP 1.1 compliant servers on the Internet |
| Support for Basic and Digest authentication (RFC 2617) | Your embedded designs can support established protocols for the exchange of username and passwords for authentication |
| Support for object caching, large object streaming and pipelined request | Efficient transfer of payload data from a Web server |
| Support for HTTP cookies | Ability to support stateful communications |
| Optional TLS security | Create embedded devices with a secured communications path |
| Optional OCSP and SCEP certificate update capability | Remotely manage certificates on your embedded device |
Supported RFCs – RomWebClient AE
Supported RFCs – RomSTL TLS
System Requirements
Processor Architecture – Agnostic to any 16-bit, 32-bit or 64-bit processor
Operating System(OS) – Agnostic to OS vendor and will function without an OS if needed
TCP/IP Stack – Agnostic
Filesystem – Agnostic to vendor implementation and will function without a filesystem if needed
Compiler – ANSI C