Secure Software for the Internet of Things
What is FIPS
FIPS stands for Federal Information Processing Standards and represents a set of computing standards for protecting sensitive or valuable data within Federal data processing environments.
Why is it important for IoT / IoMT devices?
Federal procurement agencies are under a mandate to require proof of FIPS validation for any product that connects to or interoperates with a government information network.  This requirement is meant to ensure the cryptography utilized within any security protocols has been independently reviewed, tested, and verified to meet NIST encryption standards.
With the rapid adoption of IoT and IoMT (Internet of Medical Things) throughout society, the need for security has grown exponentially.  DoD and VA hospitals require manufacturers of connected beds, patient monitors, surgical devices and many more to have met FIPS validation requirements.
HIPAA rules require encryption to protect patient data.   FIPS validation ensures the encryption meets NIST requirements keeping patient data secure.
Does Allegro have a FIPS 140-2 module I can embed into my design?
Yes, Allegro's ACE Toolkit provides IoT manufacturers with cryptography specifically engineered to meet the rigors of embedded computing in addition to meeting the latest NIST requirements for FIPS 140-2 Level 1 validation.
Allegro's ACE Toolkit – NIST FIPS Certificate #2966
All Allegro AE toolkits are highly portable across RTOS and processor families. Delivered in ANSI-C source code all products utilize a field-proven abstraction layer to enable portability with any RTOS, TCP/IP stack, and file system environment. Interface files for leading RTOS environments are provided.
Why use Allegro's FIPS 140-2 Level 1 Validated ACE library
Allegro's ACE provides a software API for a complete FIPS validated library of cryptographic functions.  More importantly, ACE is pre-integrated with the full Allegro AE suite of networking and security protocols.  Instead of investing time and money in your own validation, you can leverage Allegro's FIPS efforts.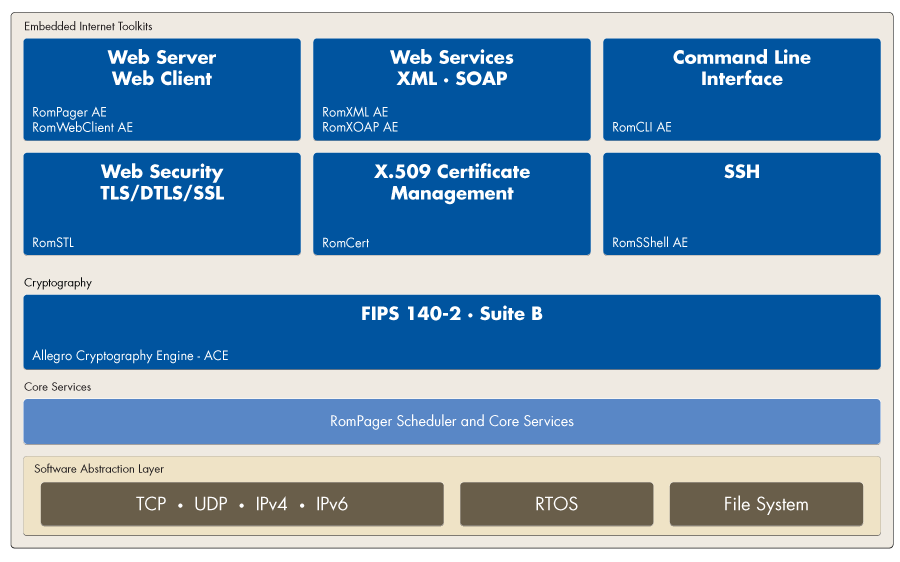 Can we get a FIPS certificate in our name?
Yes, Allegro can work with you to obtain a FIPS certification in your name by "rebranding" an ACE module.
How can Allegro help me?
For over 20 years, Allegro has been helping customers succeed at creating secure connected devices.  Our security and networking experts have the experience you need.  We can provide your company a framework to implement a defense in depth security solution and a strategy to achieve FIPS validation.  Let's talk security, click the button below to schedule a call with our team.
Let's Talk Security
Implementing IoT device security can be a challenge.  Let us help you by sharing our proven framework for integrating a proactive security approach into your design.  Click the button below to schedule a one-on-one web conference to discuss your security needs.