RomPlug Application Development Toolkits for Connected CE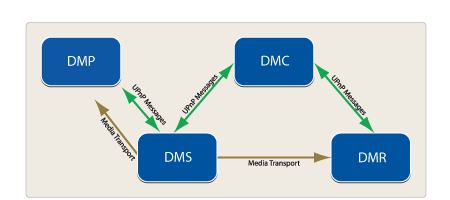 Consumers now acquire, enjoy and manage an ever increasing amount of digital content with consumer electronics. The scale, options and size of content will only grow over the coming years as consumers look to UPnP and DLNA technology to deliver a seamless interoperable network throughout the home. Allegro's RomPlug suite of development toolkits offer your engineering team flexible and robust tools to create state of the art UPnP and DLNA enabled consumer electronics and mobile devices. Engineers save time and money with Allegro's proven and stable implementations of industry standard protocols that comprise the UPnP and DLNA architecture. Allegro's RomPlug Core toolkits along with the Internet Gateway (IGD), Media (DMP, DMS, DMR and DMC) and Link Protection (DTCP) toolkits all meet the latest interoperability guidelines and are field proven in shipping products as well as ongoing industry interoperability plug fests.
RomPlug DTCP-IP Toolkit
DLNA has chosen DTCP-IP for link protection for home networking environments. Allegro's RomPlug DTCP toolkit enables your design team to easily integrate DTCP-IP technology for streaming protected digital media content into their UPnP and DLNA enabled consumer electronics and mobile devices.

Fully compliant implementations of DTCP-IP based on DTLA guidelines
DTCP Source and Sink services for Media Servers
DTCP Sink services for Media Players and Media Renderers
Routinely qualified at ongoing industry interoperability plug fests
Fully integrated with the RomPlug suite of products
| Features | Benefits |
| --- | --- |
| Small code footprint | More resources available for application features |
| ANSI C Source Code Distribution | Broad processor architecture support, eases porting and support |
| Processor, RTOS and TCP/IP stack agnostic | Allegro's products will work with new or existing hardware and software designs |
| Interface files for leading RTOS vendors provided | Minimizes porting effort, increase time to market |
| Shipping in millions of products worldwide | Field proven reliability |
| GPL Free | No licensing or development issues related with GPL |
| Field proven UPnP/DLNA solution | Decrease time to market and engineering resources proving UPnP/DLNA interoperation |
| Full support for DLNA 1.0/1.5 devices | Designs can fully leverage the latest DLNA functionality |
| Participation in DLNA plug fest events | Interoperability routinely tested and verified at industry events so your engineering team can focus on application differentiation and not the mechanics of UPnP/DLNA protocols |
| PlugBuilder compiler | Simplifies SOAP parsing and framing process for UPnP/DLNA devices |
| Certification ready | Your development team can concentrate on product differentiation using DLNA technology not wasting resources designing, developing and debugging it |
System Requirements
Processor Architecture – Agnostic to any 16-bit, 32-bit or 64-bit processor
Operating System(OS) – Agnostic to OS vendor and will function without an OS if needed
TCP/IP Stack – Agnostic
Filesystem – Agnostic to vendor implementation and will function without a filesystem if needed
Compiler – ANSI C