RomPlug Application Development Toolkits for Connected CE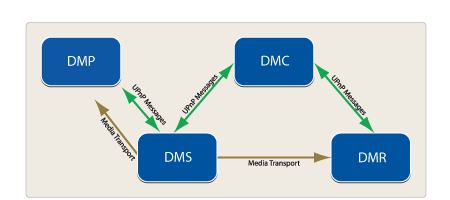 Consumers now acquire, enjoy and manage an ever increasing amount of digital content with consumer electronics. The scale, options and size of content will only grow over the coming years as consumers look to UPnP and DLNA technology to deliver a seamless interoperable network throughout the home. Allegro's RomPlug suite of development toolkits offer your engineering team flexible and robust tools to create state of the art UPnP and DLNA enabled consumer electronics and mobile devices. Engineers save time and money with Allegro's proven and stable implementations of industry standard protocols that comprise the UPnP and DLNA architecture. Allegro's RomPlug Basic, Advanced and Control toolkits along with the Internet Gateway (IGD), Media (DMP, DMS, DMR and DMC) and Link Protection (DTCP and WMDRM) toolkits all meet the latest interoperability guidelines and are field proven in shipping products as well as ongoing industry interoperability plug fests.
UPnP / DLNA Standard Toolkits
RomPlug MediaPlay Toolkit
Digital Media Players (DMP) closely model how audio video devices perform today with the simplicity of the DLNA 2 box model. DMPs discover and browse content on Media Servers much like using a program guide and then play selected content. Allegro's RomPlug MediaPlay Toolkit combines the benefits and features found in the RomPlug MediaControl for discovery and browsing content and MediaRender toolkits for controlling playback of content from media servers.

API to retrieve and parse device and service descriptions
API for event subscriptions
Flexible framework to create a DMP that complies with DLNA DMP 1.5 guidelines
RomPlug MediaServe Toolkit
Media Servers perform a significant role in all home networks. The CE competitive landscape requires device manufactures to be innovative with their feature sets for media servers. Allegro's RomPlug MediaServe toolkit enables developers with a rich API and flexibility to support and foster product differentiation within a DLNA network.

Serves device and service descriptions without application interactions
Event subscriptions are initiated and renewed without application interaction
State variable changes are automatically communicated to control points transparent to the application
Toolkit provides a rich API for device specific actions
RomPlug MediaRender Toolkit
In the competitive arena of home networking and DLNA devices, companies creating Media Renderers differentiate their products with advanced intellectual property to produce compelling products. Allegro's MediaRender Toolkit provides the framework and flexibility to create innovative Media Renders that endorse DLNA networking throughout a home.

Serves device and service descriptions without application interactions
Many Control Point actions handled by the toolkit without application interaction
Toolkit provides a rich API for device specific actions
Easily build a DMR that complies with DLNA DMR 1.5 guidelines
RomPlug MediaControl Toolkit
In a DLNA home network with potential for gigabytes of digital audio, video and photos a Digital Media Controller (DMC) is critical to managing available content on the network. Building a reliable and robust DMC that can discover media servers and browse content in addition to discovering media renderers and their capabilities presents a significant challenge. Allegro's RomPlug MediaControl toolkit enables device manufactures to focus their efforts on product differentiation rather than concentrating on the intricate details of media control UPnP/DLNA communications.

API to retrieve and parse device and service descriptions
API for event subscriptions
Event messages are automatically parsed and passed to the application
Extremely flexible with API for device specific actions
RomPlug IGD Toolkit
Internet Gateways are essential network components for accessing wide area networks. Allegro's Internet Gateway Device (IGD) toolkit provides a networking framework to create UPnP based IGD products that are easy to use.

API for service action events (Layer 3 forwarding, WAN Configuration, etc.)
Evented variables automatically communicated to subscribers
Flexible framework for creating IGD products
UPnP / DLNA Advanced Toolkits
RomPlug RUI and RUIC Toolkits
Remote User Interface (RUI) interoperability allows service providers to extend their device user interface across a multi-vendor connected environment in the home. Allegro's RomPlug RUI toolkit supports RUI based interaction in addition to HTML5. The RomPlug RUIC Toolkit specifically enables CEA 2014 RUI capabilities.

Fully integrated with UPnP/DLNA protocols
Integrated RUI Source, Sink and Control framework
HTML5 support
CEA 2014 support
UPnP / DLNA Security Toolkits
RomPlug DTCP and Romplug WMDRM Toolkits
DLNA has chosen DTCP-IP and WMDRM-ND for link protection for home networking environments. Allegro's RomPlug DTCP and RomPlug WMDRM toolkits enable your design team to easily integrate DTCP-IP and WMDRM technology for streaming protected digital media content into their UPnP and DLNA enabled consumer electronics and mobile devices.

Fully compliant implementations of DTCP-IP based on DTLA guidelines and WMDRM-ND based on Microsoft® guidelines
DTCP Source services for Media Servers
DTCP Sink services for Media Players and Media Renderers
Provides WMDRM-ND receiver services
Fully interoperable with WMDRM-ND transmitter services
Routinely qualified at ongoing industry interoperability plug fests
Fully integrated with the RomPlug suite of products
| Features | Benefits |
| --- | --- |
| Small code footprint | More resources available for application features |
| ANSI C Source Code Distribution | Broad processor architecture support, eases porting and support |
| Processor, RTOS and TCP/IP stack agnostic | Allegro's products will work with new or existing hardware and software designs |
| Interface files for leading RTOS vendors provided | Minimizes porting effort, increase time to market |
| Shipping in millions of products worldwide | Field proven reliability |
| GPL Free | No licensing or development issues related with GPL |
| Field proven UPnP/DLNA solution | Decrease time to market and engineering resources proving UPnP/DLNA interoperation |
| Choice of Application Toolkits | Flexibility to build a single or complex application using toolkits for Internet Gateway Devices, Media Renderer, Media Server, Media Player, Media Control Point and Link Protection (DTCP) |
| Full support for DLNA 1.0/1.5 devices | Designs can fully leverage the latest DLNA functionality |
| Participation in DLNA plug fest events | Interoperability routinely tested and verified at industry events so your engineering team can focus on application differentiation and not the mechanics of UPnP/DLNA protocols |
| PlugBuilder compiler | Simplifies SOAP parsing and framing process for UPnP/DLNA devices |
| Certification ready | Your development team can concentrate on product differentiation using DLNA technology not wasting resources designing, developing and debugging it |
System Requirements
Processor Architecture – Agnostic to any 16-bit, 32-bit or 64-bit processor
Operating System(OS) – Agnostic to OS vendor and will function without an OS if needed
TCP/IP Stack – Agnostic
Filesystem – Agnostic to vendor implementation and will function without a filesystem if needed
Compiler – ANSI C