RDMS 202/202D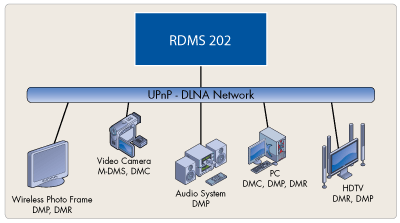 Allegro's RDMS 202 and RDMS 202D are DLNA enabled media server (DMS) reference designs. The RDMS 202 and RDMS 202D are certified devices that comply with the DLNA Networked Device Interoperability Guidelines Expanded (Version 1.5). Specifically targeted for use by DLNA Independent Certification Vendors (ICV) and Consumer Electronics (CE) manufacturers creating DLNA enabled products, the RDMS 202 and RDMS 202D are ideal for validating DLNA interoperability and data link protection within the DLNA 3 Box model. RDMS 202 units are exclusively available to DLNA members with the access to DLNA testing content. RDMS 202D additionally require proof of a valid DTLA (www.dtcp.com) license agreement.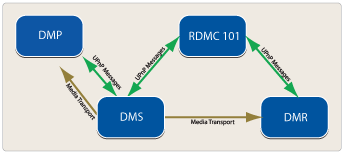 RDMS 202
Specifically created as a reference testbed platform to function in the DLNA 3 Box model, Allegro's RDMS 202 is easy to set-up and more importantly easy to use. The RDMS 202 appears in "My Network Places" folder as a media server and is easily accessed by clicking on the associated icon. The Web interface enables users to configure and browse the DLNA content and meta data delivered with the unit.
RDMS Web Interface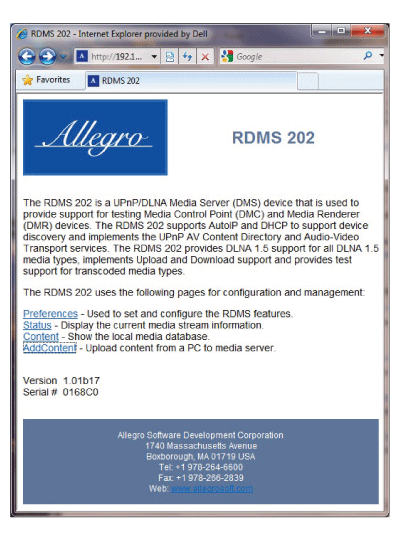 The RDMS 202 uses a web based interface to interact and configure the device. Using the web interface, users can configure the RDMS in various operating modes including the use of DTCP keys in the case of the RDMS 202D, query the status of the device, browse content and add content. The web interface also includes the ability to remotely provision the RDMS 202 with the latest firmware. An ICV or CE device manufacturer will find the web interface easy to use and well suited for testing during development or testbed integration.
RDMS 202, RDMS 202D and Allegro Toolkits
Allegro's RomPlug™ toolkits offer your engineering team flexible and robust tools for building state of the art network enabled CE devices that leverage industry endorsed UPnP and DLNA technology. The RDMS 202 specifically uses Allegro's RomPlug Advanced development toolkit for implementing a UPnP networking architecture. In addition the RomPlug MediaServe toolkit provides DLNA specific capabilities to interact with other DLNA devices: Digital Media Renderer (DMR), Digital Media Player (DMP), Mobile Digital Media Renderer (M-DMR) and Mobile Digital Media Server (M-DMS). The RDMS 202D also makes use of the RomPlug DTCP toolkit for enabling data link protection. Additional web interface capabilities are enabled with the use of RomPlug Basic and RomXML providing UPnP Presentation and AJAX support. RomWebClient and RomDNS enable the RDMS with remote provisioning capabilities. The combination of the seven toolkits and their capabilities enable the RDMS 202 to function as a DLNA Certified DMS.
RDMS 202/202D Availability
The RDMS 202/202D is available now and you can buy it from Kagi
Specifications

Physical

Interfaces

Length

4.375

in

USB

USB 2.0

Allegro PQI datastick with DLNA Test Content

Width

2.75

in

Micro USB

RESERVED

n/a

Height

1.875

in

RJ-45 Ethernet

10/100

Mbps

E-SATA

RESERVED

N/A

SD

RESERVED

N/A

Power

Embedded Hardware

AC Power

110/120

V

RTOS

Linux

Frequency

50/60

Hz

CPU

Marvell 88F6281 @ 1.2 GHz