RDMC 101
The Allegro RDMC 101 is a DLNA Certified™ Digital Media Controller (DMC)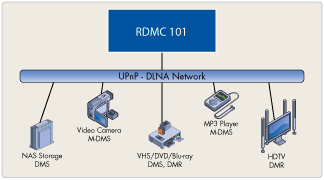 that complies with DLNA Networked Device Interoperability Guidelines Expanded (Version 1.5). Specifically targeted for use by DLNA Independent Certification Vendors (ICV) and Consumer Electronics (CE) manufacturers creating DLNA enabled products, the RDMC 101 is ideal for validating interoperability within the DLNA 3 Box model.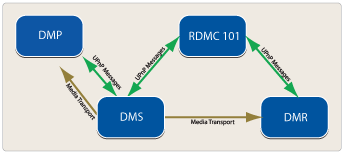 Specifically created as a reference testbed platform to function in the DLNA 3 Box model, Allegro's RDMC 101 is easy to set-up and more importantly easy to use. With UPnP Basic device capabilities built into the unit, the RDMC 101 appears in "My Network Places" folder and is easily accessed by clicking on the associated icon. The Web interface enables users on a local network to discover, browse and control DLNA devices and provides an easy to navigate visual representation of available Digital Media Servers (DMS) and Digital Media Renderers (DMR). A Telnet interface is also available and provides more in-depth command, control and information regarding the DLNA network.
RDMC 101 Availability
The RDMC 101 is available now and you can buy it from Kagi
RDMC 101 Telnet Interface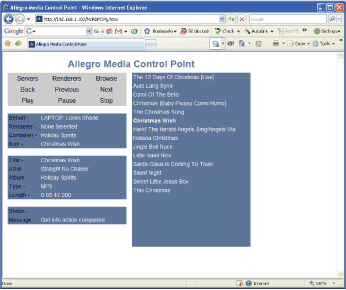 The Telnet interface available on the RDMC 101 offers a finer grained control over DLNA devices. This mode of operation offers over 35 commands to discover, query and control compatible devices. Engineering teams and ICVs can utilize this interface along with a telnet scripting application for testing automation. This interface also supports DMC "Upload" and "Download" functionality enabling a method to exercise uploading digital content to a DMS.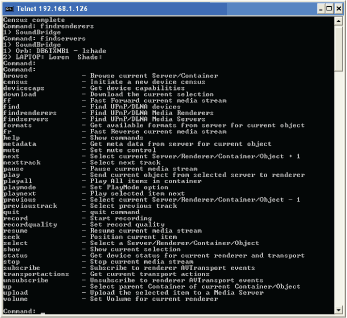 RDMC 101 and Allegro Toolkits
Allegro's RomPlug™ toolkits offer your engineering team flexible and robust tools for building state of the art network enabled CE devices that leverage industry endorsed UPnP and DLNA technology. The RDMC 101 specifically uses Allegro's RomPlug Control development toolkit for implementing a UPnP Control networking architecture. In addition the RomPlug Media Control toolkit provides DLNA specific capabilities to interact with other DLNA devices: Digital Media Renderer (DMR), Digital Media Server (DMS), Mobile Digital Media Renderer (M-DMR) and Mobile Digital Media Server (M-DMS). Additional web interface capabilities are enabled with the use of RomPlug Basic and RomXML providing UPnP Presentation and AJAX support. RomCLI enables the RDMC command line interface via Telnet. The combination of the five toolkits and their capabilities enable the RDMC 101 to function as a DLNA Certified DMC.
Specifications

Physical

Interfaces

Length

4

in

USB

RESERVED

n/a

Width

6

in

DB-9 Serial

RESERVED

n/a

Height

1.5

in

RJ-45 Ethernet

10/100

Mbps

Power

Embedded Hardware

AC Power

110/120

V

RTOS

ThreadX by Express Logic www.rtos.com

Frequency

50/60

Hz

CPU

Netsilicon ConnectCore 9C, NS9360 ARM 9 at 155 MHz